Don't mind us, we're already busy thinking about after-Christmas sales: It's a great time to use those new holiday gift cards! December 26 through 30 will be busy shopping days with retailers hoping to clear out inventory before the new year with massive sales. And don't worry if you don't want to hit the actual mall this year: Many stores are still offering curbside pickup and same-day delivery to comply with social distancing recommendations.
We'll be keeping close tabs through the end of the year help you see what's worth buying post-holiday at big retailers like Amazon, Wayfair, and Walmart. In the interim, check out some of the best sales currently taking place right now:




Best Projectors after-Christmas sales 2022:
This is Anker's best Nebula projector to date and also a very, very good portable in its own right. Feature-wise, it's got almost everything one could need in an outdoor/portable projector. There's an excellent smart platform, a three-hour battery life, a good degree of brightness and plenty of source material options.
What tops it off, though, is some really rather impressive picture quality. There are brighter machines out there but, for this price, there's a great blend of both punch and subtlety to the image. In the right setting, it's just the ticket.
The onboard speakers are a touch weedy but the quality and spread of sound from them is good.
Do be warned that the app platform is missing a few of the UK catch-up services, iPlayer included, but otherwise, this feels like one of the best projectors out there for taking on your travels. It's small, convenient and very well appointed.
Vivid but balanced picture
Great portable size and features
Decent spread of sound
Sound system lacks impact
Blacks could be deeper
2. Viewsonic M1+ – A tiny projector with built-in Harman Kardon speakers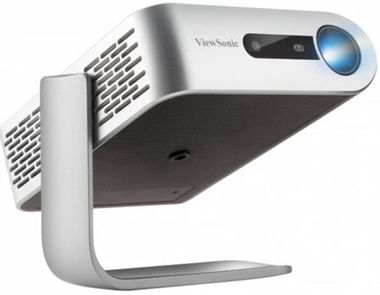 Mini projectors don't get much more convenient than the Viewsonic M1+. It's tiny, and only weighs as much as four phones stacked in a pile. And it does come with wi-fi, a MicroSD card slot, plus USB Type-A and USB Type-C connectors.
The stand makes projecting an image from slanted surface, or onto angled walls, a cinch. Its speaker is the real surprise, though. While it sounds harsh and brash at maximum volume, the dual Harman Kardon speakers deliver enough volume for a movie night if you keep things sensible. The sound may only be that of mediocre budget bluetooth speaker, but it's much better than that of most pint-size projectors.
Image quality is mixed, and not up to the traditional standards of TVs and projectors. That's hardly surprising as resolution is very low at 854×480 pixels. Text looks terrible, but we are pleasantly surprised by how invisible the pixel structure is even when projecting at 100 inches. Faces look smooth rather than blocky, although naturally there's limited fine detail. This is a DVD-quality projector, not an HD one.
The Viewsonic M1+'s focusing is fiddly too. It has a flimsy wheel, and the M1+ tends to change focus slightly as soon as your take your finger off the control. Getting a perfectly in-focus picture requires some finger gymnastics.
And, no surprise here, the Viewsonic M1+ needs a fairly dark room to achieve an acceptable image. No-one is likely to be bowled over by this projector. But it is compact, relatively affordable, sounds reasonable, has a three-hour battery life and does a fair job displaying SD-quality movies. If that's all you require, it does the job.
Reasonable image in dim light
Speaker goes surprisingly loud
Low resolution and brightness
Poor focus control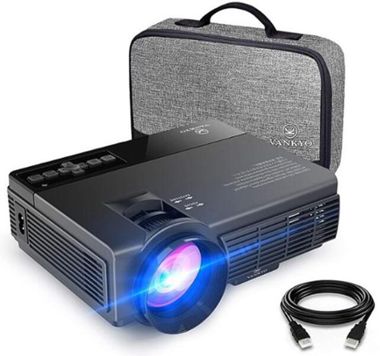 The Vankyo Leisure 3 is designed for the home, and it comes with a carrying case for when it needs to go out on the road. There are a ton of input options, including VGA, HMDI, USB, MicroSD, and RCA. The projector itself isn't terribly bright. Our reviewer, Benjamin writes, "The bulb is not very bright, though, and the only way to get a decent projection is in a very dark room. We weren't really satisfied until we closed the blackout curtains and had very little ambient light around us."
It's also a little hard to set up. There are no feet on the bottom for leveling the projector and there's only a comparatively short foot in front for vertical adjustment. In short, you'll probably need to prop the projector up in front to get the image to go where you want it to go. But beyond all that, it's hard to argue with the price.
In short, this projector is a great budget option that will work well in your home, as its name implies. You'll need a sufficiently dark room, but if you have that, you'll get a sharp 1080p picture with a good 2000:1 contrast ratio and solid color reproduction.
Carrying case
Multiple inputs
Low price
Not very bright
Short foot to aim
4. Xgimi MoGo Pro – The best portable mini projector for movies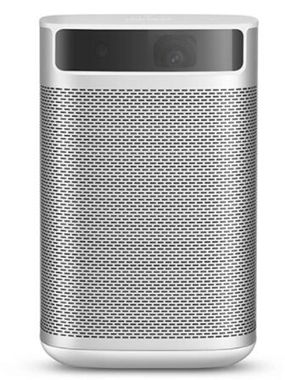 The Xgimi MoGo Pro offers almost everything we could ask for in a portable movie projector. This 1920×1080-resolution projector delivers a good-looking image with better contrast and detail (and more picture adjustments) than you can get from most of its competitors.
Also, it's easy to set up and use, it's compact, and it has an internal battery that lasted about two hours in our tests (it also comes with an 8-foot power cord). Best of all, the MoGo Pro has Android TV with Chromecast and Google Assistant built in, so it's basically a projector and a full-fledged streaming media player in one. That means you don't have to connect an external video player to enjoy lots of movies and other streamed content, though the unit has HDMI and USB Type-A inputs if you need them.
The internal speaker sounds respectably loud and full. In addition, the MoGo Pro supports both Bluetooth output (to send audio to an external speaker or to headphones) and input (to serve as a Bluetooth speaker). The only downsides to this projector are that it's not as bright as others we tested and that it currently does not support the Netflix app (but there are workarounds).
Google TV/Chromecast built-in
Auto keystone and obstacle avoidance
Great remote
Loudspeakers
No battery
No aiming or leveling
5. BenQ HT2150ST – Best Short Throw Projector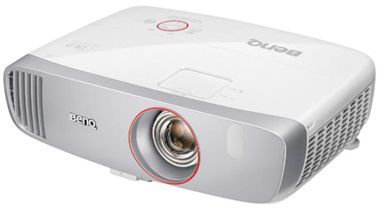 The BenQ HT2150ST also has an impressive native resolution and the projector provides you with full 1080p HD quality image. It produces bright images, owing to its 2,200 ANSI lumens. The projector also offers an impressive contrast ratio of 15,000:1, and its bulb life expectancy is around 3500 to 7000 hours, depending on the usage.
With DLP technology, you can be guaranteed that this unit doesn't come with any deterioration issues. This is due to the fact that it has been made to resist decline in quality. Thus, you can depend on it to deliver high-quality pictures each time you use it. The built-in CinematicColor tech improves the color resolution to make sure you see the most realistic visuals possible. This feature enhances the intense sharpness of pictures displayed to you. The projector has an impressive resolution of 1920 x 1080.
This unit comes with a total of two inbuilt speakers that include BenQ Cinema Master Audio technology, making it perfect for watching movies and playing games. Each of the built-in speakers is 10 watts, which produces a lot of sound power. Hollywood-like technology has been integrated into the sound system of this projector to produce bass-booming sounds. Overall, this is a great projector that performs impressively.
High response rate
High-quality speakers
Excellent size and weight
Looks modern and stylish
Bleak colors in a brightly-lit room