The XGIMI Halo Plus is a portable projector that has been designed to cater to the needs of people who require an efficient, high-quality projector that can be easily carried around. The Halo Plus is a smart projector that runs on Android TV 9.0, and it is equipped with a 1080p resolution, Harman Kardon speakers, and a long-lasting battery. This projector has a lot to offer, and in this review, we will take an in-depth look at the XGIMI Halo Plus to see if it's worth your investment.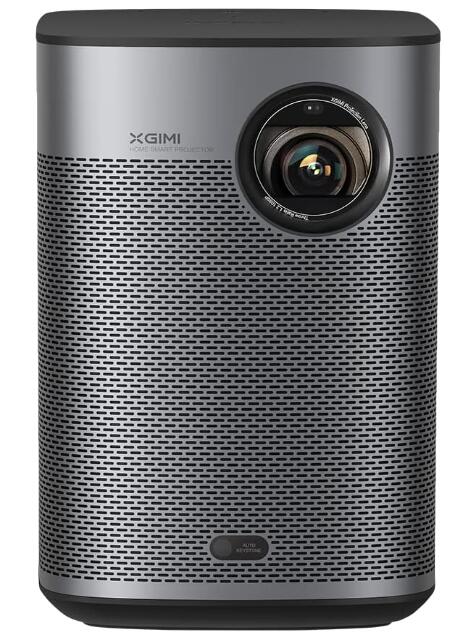 Check Price On Amazon
XGIMI Halo Plus Review: 1080P Portable Projector
Design and Build Quality
The XGIMI Halo Plus has a sleek and stylish design that sets it apart from other projectors. The projector has a rectangular shape, and it measures 4.3 inches tall, 5.9 inches wide, and 5.9 inches deep, making it a compact and portable device. The projector's top is covered with a fabric that is used to protect the device's interior from dust and debris, while the bottom has a plastic base that keeps the projector in place.
On the back of the projector, there is a variety of ports, including a power port, two HDMI ports, a USB port, an ethernet port, and an audio output. These ports are well-organized and are easy to access, making it easy for users to connect their devices to the projector.
The XGIMI Halo Plus is built with high-quality materials that make it durable and long-lasting. The projector has a metal frame that protects the device from damage, and its plastic base is sturdy and provides excellent support. Overall, the build quality of the XGIMI Halo Plus is excellent, and users can expect it to last for a long time.
Image Quality
The XGIMI Halo Plus boasts a 1080p resolution, which delivers clear and vibrant images. The projector's colors are accurate and vivid, and it produces sharp and detailed images. The projector's brightness is rated at 800 ANSI lumens, which is bright enough to produce clear images even in well-lit rooms. The contrast ratio of the projector is 1000:1, which is lower than what is offered by other projectors in this price range, but it is still good enough to deliver clear and crisp images.
The XGIMI Halo Plus uses a DLP projection technology, which allows the projector to produce clear and vibrant images. The projector has a throw ratio of 1.2:1, which means that it can produce a 100-inch image from a distance of 8.5 feet. The projector's keystone correction feature helps to correct image distortion, ensuring that users get clear and crisp images at all times.
Sound Quality
The XGIMI Halo Plus comes with two Harman Kardon speakers that deliver excellent sound quality. The speakers produce clear and detailed audio, and they are powerful enough to fill a small room with sound. The projector also has Bluetooth connectivity, which allows users to connect their Bluetooth-enabled devices to the projector and stream audio wirelessly. Users can also connect external speakers to the projector using the audio output port.
Connectivity Options
The XGIMI Halo Plus offers a wide range of options. It has dual-band Wi-Fi, Bluetooth, HDMI, USB, and Ethernet ports, which allow you to connect it to a wide range of devices. The projector also supports screen mirroring via AirPlay, Miracast, and DLNA, so you can easily stream content from your smartphone or tablet.
The XGIMI Halo Plus runs on Android TV 10, which provides a user-friendly interface for accessing your favorite streaming services and apps. You can use voice commands to control the projector using the built-in Google Assistant, and the remote control features backlit buttons for easy use in the dark.
The projector also features a built-in Harman Kardon sound system, which provides excellent audio quality. The speakers are located on either side of the projector, which creates a wide and immersive soundstage. If you want even more power, you can connect an external sound system via Bluetooth or the 3.5mm audio jack.
Performance
The XGIMI Halo Plus delivers excellent image quality with sharp, clear visuals and accurate colors. The projector has a native resolution of 1920 x 1080 pixels, which provides excellent detail and clarity. It also has a contrast ratio of 1000:1, which helps to create deep blacks and vibrant colors.
One of the features that sets the XGIMI Halo Plus apart from other portable projectors is its auto-focus and keystone correction capabilities. The projector uses an advanced optical system that automatically adjusts the focus and keystone to create a clear and distortion-free image. This makes it incredibly easy to set up and use, even in small or awkwardly shaped rooms.
Conclusion
Overall, the XGIMI Halo Plus is an excellent portable projector that delivers impressive performance and a wide range of features. Its compact size, built-in battery, and easy-to-use interface make it a great option for anyone who wants to enjoy high-quality entertainment at home or on the go. If you're looking for a powerful and versatile projector, the XGIMI Halo Plus is definitely worth considering.