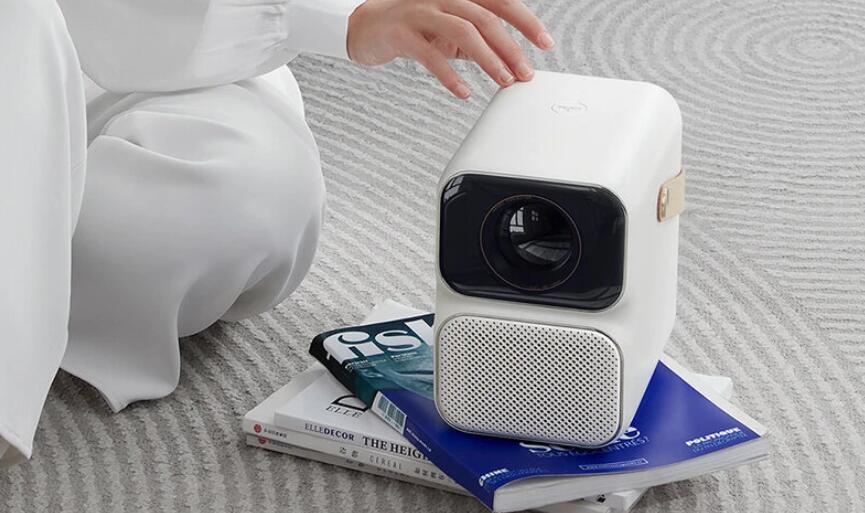 Check Price On Amazon
In a world where home entertainment is becoming increasingly popular, having a high-quality projector is essential for anyone looking to create a true cinematic experience in the comfort of their own home. The WANBO T6 Max is one such projector, offering an impressive array of features at a competitive price. In this review, we'll take a close look at the WANBO T6 Max, exploring its specifications, performance, and overall user experience to help you decide if it's the right fit for your home theater needs.
Design and Build Quality
The WANBO T6 Max features a sleek and modern design, with a matte black finish and rounded corners that give it a premium look. The projector's compact size, measuring 220 x 170 x 90 mm and weighing just 1.2kg, makes it an excellent option for those with limited space. The build quality is solid, with a combination of high-quality plastic and metal components that ensure durability for long-term use.
On the back of the projector, you'll find a variety of connectivity options, including two HDMI ports, two USB ports, a microSD card slot, an AV port, and a 3.5mm audio jack. This wide range of inputs makes it easy to connect various devices, such as gaming consoles, streaming devices, or laptops, to the T6 Max.
Specifications and Features
The WANBO T6 Max is loaded with impressive technical specifications that make it an attractive option in its price range:
Resolution: Full HD 1080p (1920 x 1080)
Brightness: 5,000 lumens
Contrast Ratio: 3000:1
Display Technology: LCD
Projection Size: 40-200 inches
Throw Ratio: 1.35:1
Zoom: Manual (±15%)
Keystone Correction: ±15° vertical (manual), ±15° horizontal (manual)
Lamp Life: Up to 50,000 hours
Audio: Dual 3W speakers
Operating System: Android 9.0
Wi-Fi: 802.11 b/g/n
Bluetooth: 4.0
One of the standout features of the WANBO T6 Max is its Android 9.0 operating system, which allows you to install popular streaming apps like Netflix, Hulu, and YouTube directly onto the projector. This eliminates the need for an external streaming device and creates a more seamless user experience.
Performance
Image Quality
With full HD 1080p resolution and 5,000 lumens of brightness, the WANBO T6 Max delivers sharp, vibrant images that are impressive for a projector in this price range. The 3000:1 contrast ratio ensures deep blacks and bright whites, making the picture quality ideal for watching movies, playing games, or viewing presentations.
The T6 Max supports a projection size of up to 200 inches, allowing you to create a massive screen for an immersive viewing experience. The manual zoom and keystone correction features ensure that you can easily adjust the image size and alignment to suit your specific setup.
Audio Quality
The integrated dual 3W speakers provide decent audio quality for casual use, but for a more immersive audio experience, it's recommended to connect an external sound system or soundbar using the 3.5mm audio jack. This will greatly enhance the overall home theater experience and is a common practice among projector users.
User Interface and Ease of Use
The Android 9.0 operating system on the WANBO T6 Max offers a user-friendly interface that makes navigation and app installation simple and straightforward. The included remote control is responsive and easy to use, although the lack of backlit buttons can make it challenging to navigate in a dark room.
The T6 Max also supports wireless screen mirroring for Android and iOS devices, allowing you to project content from your smartphone or tablet with ease.
Fan Noise and Heat
Like most projectors, the WANBO T6 Max does generate some fan noise during operation, but it remains relatively quiet and shouldn't be too distracting for most users. The projector also stays relatively cool during use, thanks to its efficient cooling system.
Conclusion
In summary, the WANBO T6 Max is an excellent option for those looking for a feature-packed, affordable projector for their home theater setup. With its impressive image quality, convenient Android OS, and compact design, the T6 Max offers great value for money.
While the integrated speakers may not be ideal for a full home theater experience, the option to connect an external sound system easily mitigates this issue. Overall, the WANBO T6 Max is a solid choice for anyone looking to bring the big-screen experience into their home without breaking the bank.