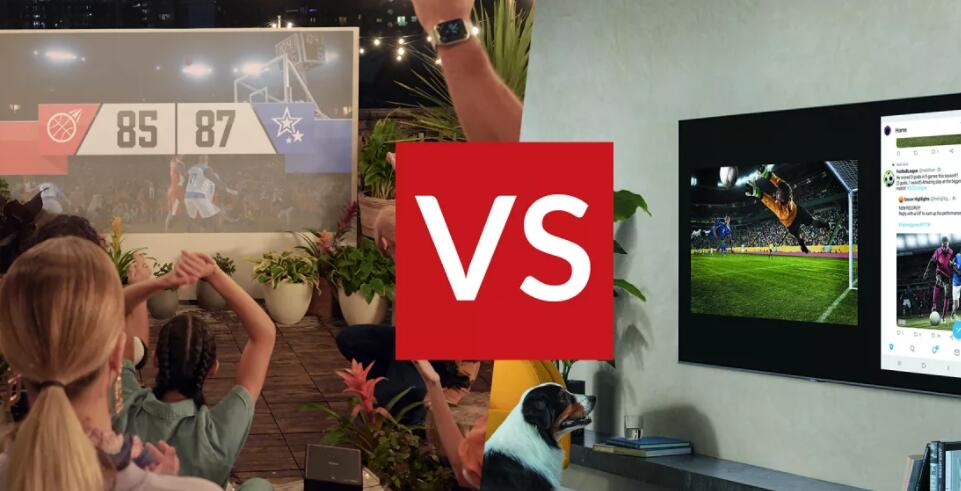 When you're picking out components to build or upgrade your home theater system, one of the first decisions you'll need to make is whether to get a TV or a projector. There's no wrong answer, but the display you use will have a huge impact on your experience each time you sit down to watch a TV show or movie.
To help you make an informed decision, we've broken down the major differences between TVs and projectors, including a general feature comparison, and non-technical factors you should consider, like the size of your room. We've also given our TV and projector pick once you've made up your mind.
Screen size and pricing
There's a good reason cinemas use projectors. When it comes to creating a massive picture, TV screens just don't compete. For most consumers 75-inch TVs will be about as large as can reasonably be afforded, and even then it'll come at a huge price uplift compared to a modest 55-inch version of the same model.
Once you get a TV, you're also committed to its size until you replace it. Your screen will never get bigger or smaller. If you start out with a 40-inch TV while living in a small studio apartment and then move to a bigger place, your TV isn't going to grow to fill the extra space.
Meanwhile, a projector's image size can be incredibly flexible (this will depend somewhat on the type of projector, though). One day you might set up the projector to have a compact 30-inch image and then, later that same day, you could set it up to cover the side of a building with a 300-inch picture. However, this is more true of mid-range and high-end projectors, as bigger images require a much brighter projection source to be visible.
The projector screen size advantage is not something that'll easily be overcome by TVs anytime soon even with the advent of modular Micro LED displays, at least not for consumers. But, your setup plays a big part in the picture size you go for, so we'll look at that next.
Image Quality Is About More Than Just Pixels
Screen size is the biggest difference between TVs and projectors, but it's followed up very closely by image quality.
The most basic way to judge image quality is by looking at a screen's resolution, which means how many pixels it has. The more pixels, the better the image quality. Note: This is also heavily dependent on the video quality of the video you're watching, a low-resolution video will always look bad regardless of how high-resolution your screen is.
Home theater TVs have made the leap from 1080P (full HD; 1920 x 1080 pixels) to 4K (UHD; 3840 x 2160 pixels). Most projectors will accept a 4K video feed, but have a native (actual) resolution of 1080P. This may seem like a total win for TVs — and it is on a technical level — but most video content isn't available in 4K yet. Video games are another story, as the hallmark feature of Sony's upcoming PlayStation 5 and Microsoft's Xbox Series X is the ability to play games in 4K.
A relatively new technology called HDR (high dynamic range) is another major technical feature that separates TVs and projectors. Video shot and encoded with HDR will have significantly more life-like colors and shadows, and while both the TV and projector we recommend support this feature, TVs get the edge.
Almost all home theater televisions use the updated Dolby Vision version of HDR, which allows the screen to make light and color adjustments on the fly; projectors use a technology called HDR10, which can display high dynamic range video, but can't make the same changes.
Room Size
Since TVs are self-contained, you can place a TV in any size room. Even a larger screen set can be placed in a small room if you don't mind sitting close to the screen.
Video projectors typically require a room that provides enough distance to display images. The projector usually needs to be placed behind the viewer to project an image of sufficient size to provide a large-screen viewing experience.
Room Light
Room lighting is a major factor for both TV and video projector viewing.
Strides have been made to increase video projector light output, enabling some projectors to provide viewable images in a room with ambient light. Still, projectors perform best in a darkened room.
While TVs can be used in darkened rooms, TVs are designed to display good image quality under normal light conditions. LED/LCD TVs perform well under normal light, whereas OLED TVs perform better in a dimly lit room. However, both look fine in a standard lit room, barring any screen reflections from light coming from windows or lamps.
Type of Display: OLED, LED LCD, etc
Most display screens are either LED or LCD. They can come in ultra HD or HD quality and they basically just use light emitting diodes (LEDs) to power the screen. LCD screens are famously thin and can fit into tight spaces and sit flush against the wall.
LCD screens can be powered by LEDs around the edges or have a full array right behind the screen. The two will offer different capabilities in terms of lighting and dimming the content.
Another type of LCD display is quantum dots, a more advanced form of lighting that is required by HDR content. LED and LCD screens come with a myriad of benefits including a wide range of prices, features, and sizes, giving you the widest available options.
OLED TVs are even more advanced than LED/LCD displays with different lighting zones. And instead of a backlight, OLED TVs use the best LEDs controlled down to the pixel. This gives the TVs the ability to produce pictures that are unmatched by other display types.
5 Best 60 Inch TVs 2021: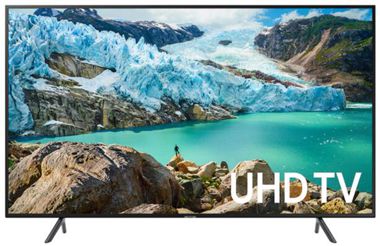 The Samsung UN58RU7100FXZA is our audio team's top choice for the best 60-inch TV on the market. The picture quality is optimized with a 4K UHD processor that will enhance every detail on the large screen with HDR. The amazing picture unlocks dynamic visuals and colors that surpass any HDTV.
Samsung PurColor technology will get you as close to the real thing as possible by accentuating every color and creating lifelike visual effects. With Amazon Alexa and Google Assistant compatibility, the Samsung UN58RU7100FXZA provides another level of convenience.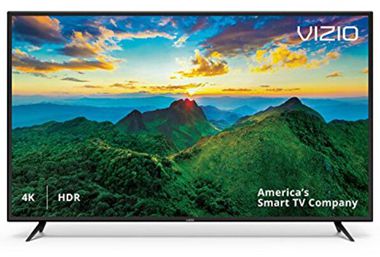 The Vizio D-Series 60" TV supports HDR10 and HLG pictures. As a 4K resolution TV, the Vizio D-Series features 4x the picture quality of Full HD [1]. The colors will be brighter and so will the screen with the full array LED backlight to make sure there are no dim parts to the picture.
The SmartTV feature gives you quick access to all your favorite content and apps. With the help of Amazon Alexa and Google Assistant, you can easily navigate around the menus and adjust volume levels with only the sound of your voice.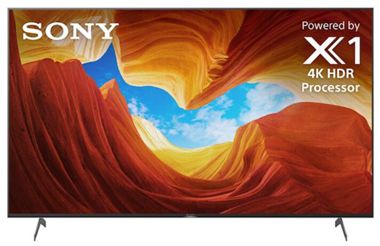 If you don't mind spending extra for a seriously dazzling and perk-packed TV, then you can't do much better than the Sony X900H 65-inch 4K TV right now. Sony's sets are typically pricier than most, but the differences shine through once you see the screen in motion. At 4K resolution with Dolby Vision HDR support, Sony's TRILUMINOS display and X-Motion Clarity technology ensure that everything looks crisp and smooth, whether you're watching TV, a movie, or playing games. And yes, it's naturally well suited for the upcoming PlayStation 5.
It's also loaded with extra features, such as Chromecast and Apple AirPlay 2 compatibility for mirroring your smartphone or tablet display, and it uses the stellar Android TV interface that holds the key to loads of streaming video apps. It also supports Dolby Atmos for truly enveloping surround sound.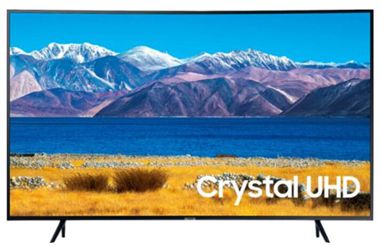 Curved televisions didn't catch on in a big way, but Samsung still has a couple of models for anyone who wants to bring some curve appeal into their home theater setup. This TU-8300 65-inch model is the 2020 version of the RU7300, which we reviewed in the smaller 55-inch incarnation.
Samsung's design has a bit more spunk than a lot of sub-$1000 4K sets, although to be honest, the curved panel doesn't seem to make a significant difference when it comes to the so-called immersiveness of the viewing experience. If anything, it limits viewing angles and adds some quirks when it comes to reflecting light. That said, it is distinctive, and while HDR didn't seem to make a big impact on the 2019 model, the 4K clarity really shined through. The 2020 edition has some new perks, too, such as Ambient Mode+ which mimics the wall or surface behind it when idle, and a remote access feature to mirror your computer screen.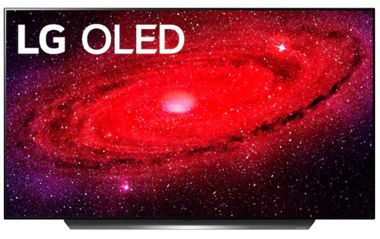 Do you really need an expensive TV? Considering the ever-increasing quality of so-called entry-level or mid-range sets, spending big bucks on a TV can be a hard sell. However, the high price tag for some sets can be justified with excellent picture quality and features. The LG 65XCXPUA is a high-end TV that will make you realize what you're missing on other TVs.
The 65CXPUA is a gorgeous 65-inch OLED 4K TV (3840 x 2160 resolution) that is gorgeous and ridiculously thin at about a quarter of an inch thick. The size gets a little bigger in the area to accommodate the ports. It comes with a wedge-shaped stand and is also VESA wall-mountable. Connectivity includes four HDMI ports, three USB ports, a LAN port, optical digital audio output, Bluetooth, and wi-fi. Smart features are handled via webOS with its intuitive graphics and flexible tabs.
If you wonder what a high-end TV is like, the LG 65CXPUA can answer all your questions. Its plethora of features and top-notch picture quality might just justify its high price. The 65CXPUA is a top contender on the list of best 60-inch TVs.
5 Best Projectors of 2022: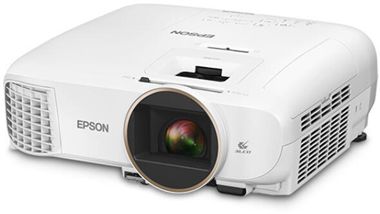 The best projector out of the models I tested — the one I'll be recommending to my friends — is the $899 Epson 2150. The image is great: it's big, it's bright, and the color reproduction is pretty. The 2150 is an LCD projector, which gives it a crisp image even when projecting a 130-inch image, and it can project up to 300 inches. It has 1080p resolution, but unless you're in a completely dark theater with a screen, it's not going to look noticeably different than 4K.
The brightness, which is rated at 2500 lumens, is lower than you'll see other projectors rated. But LCD makes a low lumen count seem brighter and more vibrant than a DLP projector with the same rating. You can watch this with some ambient daylight, but definitely not when there's unfiltered light pouring in through a window. Toggling to dynamic mode makes for the best daytime image, which is a great thing about Epson projectors: you can easily switch between viewing modes, and each one looks great. Use cinema mode, which has deep blacks, for watching a movie at night.
The 2150's built-in 10-watt speakers are loud. I didn't find the need for external speakers, but there is a 3.5mm audio output to hook them up if you want. The fans are also loud, though, and it gets hot. I would avoid putting this right next to your head. That's easier than it may seem because the Epson 2150 has automatic keystoning. Keystoning is important because it allows you to straighten out the image so the projector doesn't need to be perfectly parallel with the wall.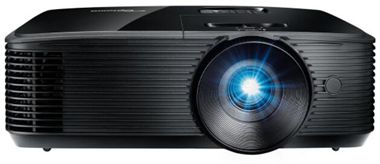 A less expensive but still excellent projector is the Optoma HD146X. It costs $549 and shares many of the same specs as the Epson 2150.
The biggest difference is that it's a DLP projector, so its rated 3600 lumens of brightness don't make it brighter than the 2150. It actually appears darker and less vibrant. It's not as crisp as the 2150 either, again, due to it being DLP instead of LCD.
The Optoma's image modes are also less flexible, and the "bright" mode produces an unusably green image. The "vivid" or "cinema" modes are much nicer. But if you're viewing in the middle of the day, you'll likely need to put your shades down, especially if you don't have a screen. In addition, the HD146X offers nice contrast, which produces a punchy image.
Lastly, the HD146X's built-in 3W speaker is not loud, but the fan is loud. At maximum volume, you can still hear the fan if the projector is near your head. It's manageable, though: if this projector is for your bedroom, the speaker will be fine. But if you're trying to do a movie night with friends or you have loud street noise, I'd recommend speakers, which you can hook up through a 3.5mm audio output. The 1.1x zoom lens has a shorter range than the 2150, so it's hard to make the image really big in my apartment. At 11 feet away, the image is about 100 inches, which is big, but I wish it could get even bigger.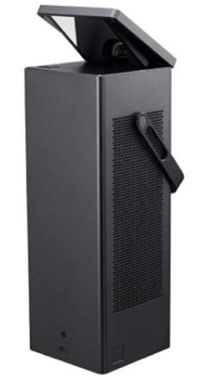 One of the most feature-complete projectors you'll ever find, the LG CineBeam is a really fascinating box of tricks. It may not be the finest on this list in terms of pure picture quality, but it presents a very decent 4K HDR image from a larger array of sources – both smart and local – than any other here. And for that, we commend it.
It's blessed with LG's excellent webOS platform, which means direct access to all your video apps over Wi-Fi, and its Miracasting and Bluetooth abilities make for easy and intuitive ad-hoc connections to whatever mobile device you'd like to play back from. These can provide external sound, too.
So is it expensive? Maybe. But for those who want the flexibility to throw a movie up on their wall whenever and however they choose, it's just the ticket, with decent sound and a very solid picture as well. One of the best outdoor projectors you can buy.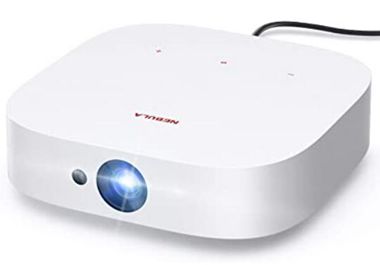 This is Anker's best Nebula projector to date and also a very, very good portable in its own right. Feature-wise, it's got almost everything one could need in an outdoor projector. There's an excellent smart platform, a three-hour battery life, a good degree of brightness and plenty of source material options.
What tops it off, though, is some really rather impressive picture quality. There are brighter machines out there but, for this price, there's a great blend of both punch and subtlety to the image. In the right setting, it's just the ticket.
The onboard speakers are a touch weedy but the quality and spread of sound from them is good.
Do be warned that the app platform is missing a few of the UK catch-up services, iPlayer included, but otherwise, this feels like one of the best projectors out there for taking on your travels. It's small, convenient and very well appointed.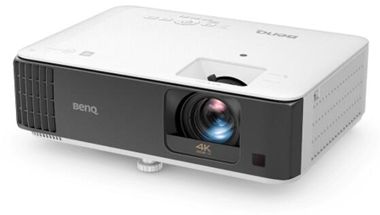 If you're looking to lay a big load of cash on a projector, you can't go wrong with the BenQ TK700STi. If you're buying it for gaming, then that endorsement is even stronger.
This unit supports 4K at 60Hz with an unsurpassed 16ms response time at that resolution, which is as low as response times get in a native 4K projector. If you want up to 120 inches of bright, crystal-clear game on your wall or screen, this sets a new benchmark. You can also push to 120Hz if you're happy settling for HD output.