The BenQ HT3550 is a 4K home theater projector that boasts an impressive set of features and performance capabilities at a competitive price point. This projector is designed for movie enthusiasts and home theater aficionados who want to experience the benefits of a high-quality, 4K projection system in their home. In this review, we will delve into the HT3550's features, performance, and overall value, to help you determine if this projector is the right fit for your needs.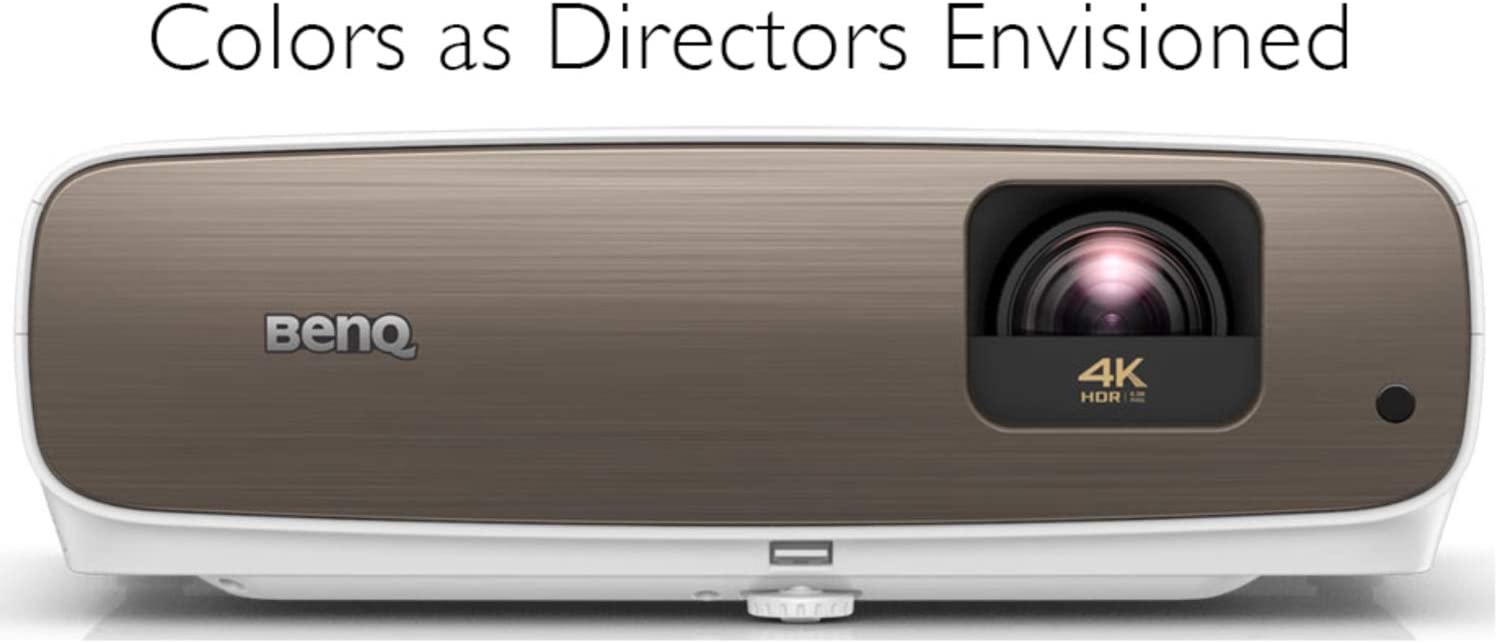 Check Price On Amazon
Design and Build Quality
The BenQ HT3550 is a compact and stylish projector, measuring 14.96″ x 5.11″ x 10.35″ (WxHxD) and weighing a modest 9.2 lbs. Its sleek design features a white body with bronze accents, giving it a modern and elegant look. The lens is positioned off-center to the right and is protected by a sliding lens cover. The HT3550's build quality is solid, as expected from a reputable brand like BenQ.
The projector's rear panel features a comprehensive selection of inputs and outputs, including two HDMI 2.0 ports (with HDCP 2.2), a USB Type-A port, a USB Type Mini-B port, a 12V trigger output, an RS-232 port, a 3.5mm audio output, and a VGA input. This should accommodate most home theater setups.
Features and Specifications
The BenQ HT3550 is packed with features that cater to the needs of a home theater enthusiast. Some of the key features and specifications include:
Native 4K UHD resolution (3840 x 2160) using 0.47″ DLP DMD chip
2,000 ANSI lumens of brightness
30,000:1 dynamic contrast ratio
HDR10 and HLG support
CinematicColor technology with 95% DCI-P3 color space coverage
1.3x zoom and +/- 30 degrees vertical keystone correction
3D support (with optional 3D glasses)
ISFccc certified calibration for day and night modes
SmartEco and LampSave modes for extended lamp life (up to 15,000 hours)
Integrated 5W stereo speakers
Image Quality and Performance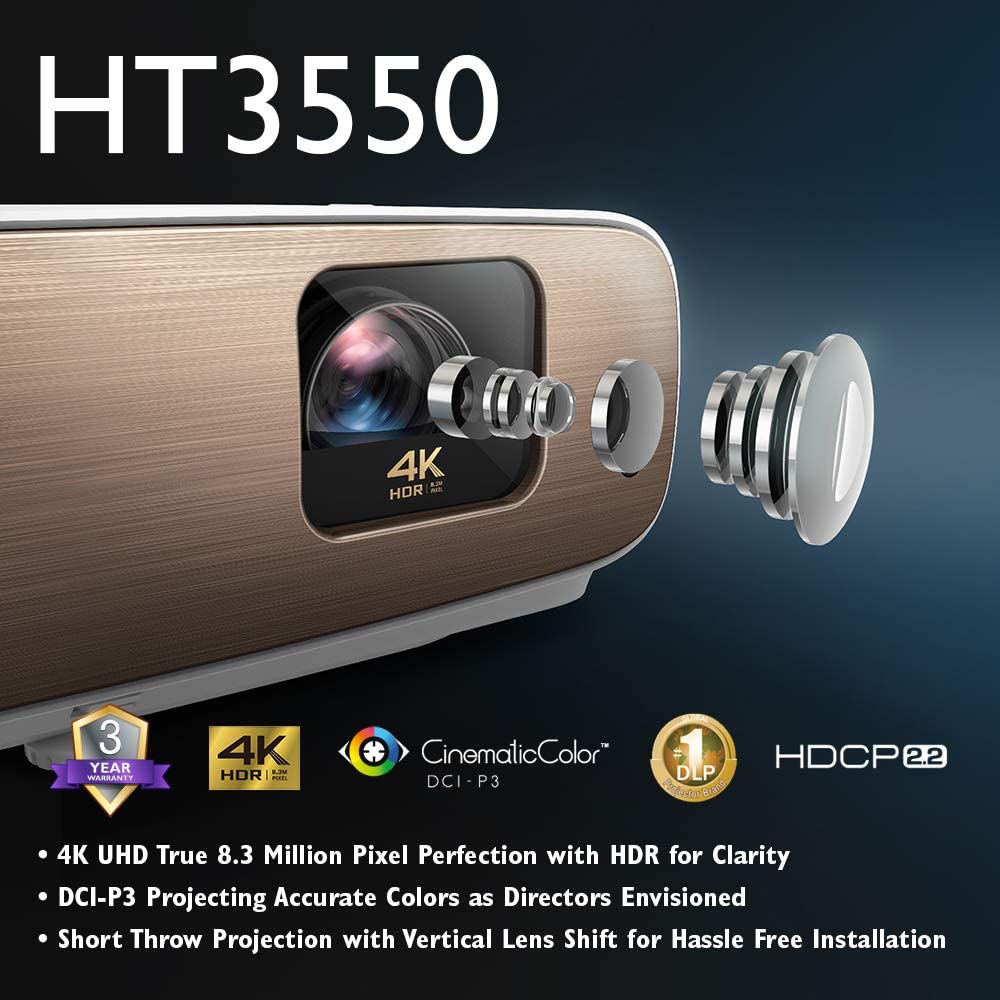 The BenQ HT3550 delivers impressive image quality, thanks to its native 4K resolution and support for HDR10 and HLG content. The projector's CinematicColor technology ensures accurate and vibrant colors, while its 95% DCI-P3 color space coverage ensures that the colors are true to the original content.
The HT3550's brightness is rated at 2,000 ANSI lumens, which is sufficient for most home theater environments with controlled ambient light. The projector's dynamic contrast ratio of 30,000:1 ensures deep blacks and excellent shadow detail, which is particularly important for enjoying movies and TV shows with dark scenes.
The 1.3x zoom and vertical keystone correction allow for some flexibility in placement, making it easier to set up the projector in a variety of room sizes and configurations. However, it's worth noting that the HT3550 lacks lens shift, which may limit placement options for some users.
One of the standout features of the BenQ HT3550 is its support for 3D content. With the purchase of optional 3D glasses, you can enjoy an immersive 3D viewing experience that rivals many commercial theaters.
Noise and Heat
The HT3550's cooling system is relatively quiet, with a noise level of 30dB in normal mode and 28dB in Eco mode. This shouldn't be too distracting during movie playback, especially if you're using an external sound system. However, it's worth noting that the projector does generate some heat, so it's essential to provide adequate ventilation to ensure optimal performance and longevity.
Integrated Audio
While most home theater enthusiasts will likely opt for an external sound system, the BenQ HT3550 does include a pair of integrated 5W stereo speakers. These speakers offer decent sound quality for casual use, but they won't compete with a dedicated audio setup.
Lamp Life and Maintenance
The BenQ HT3550's lamp life is rated at 4,000 hours in normal mode, 10,000 hours in SmartEco mode, and 15,000 hours in LampSave mode. This should provide many years of use before needing a replacement lamp. The projector's air filter is also easily accessible for cleaning and maintenance, helping to prolong the lifespan of the unit.
Conclusion
The BenQ HT3550 is an impressive 4K home theater projector that offers a great combination of image quality, features, and performance at an attractive price point. Its native 4K resolution, HDR support, and accurate color reproduction make it an excellent choice for movie enthusiasts and home theater aficionados alike.
Few limitations such as the lack of lens shift and modest integratedaudio may be a concern for some users, but these are minor drawbacks in an otherwise well-rounded projector. The addition of 3D support and a solid lamp life further adds to the HT3550's value proposition.
In conclusion, the BenQ HT3550 delivers a captivating home theater experience that will please even the most discerning viewers. Its combination of performance, features, and price make it a strong contender in the 4K home theater projector market, and it is well worth considering for anyone looking to elevate their home cinema experience.