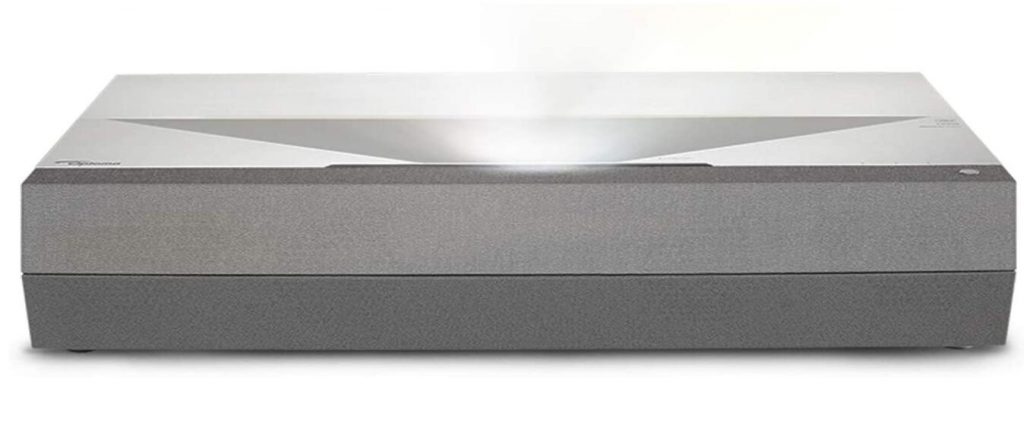 Check Price On Amazon
The Optoma CinemaX P2 is a 4K Ultra Short Throw (UST) laser projector that aims to deliver a cinema-like experience in the comfort of your own home. In this review, we will take a look at the features, performance, and overall value of this projector to help you decide if it's the right fit for your home theater setup.
Design and Build Quality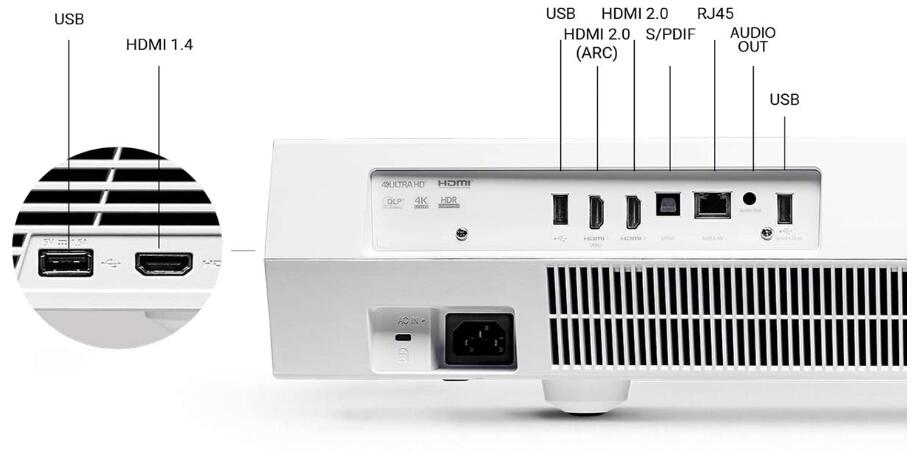 The CinemaX P2 boasts a sleek and modern design that will fit seamlessly into most living spaces. The projector's white chassis is made of high-quality materials that give it a premium feel. With dimensions of 22.1 x 15 x 5.1 inches and a weight of 24.25 pounds, it's a relatively large device, but its UST design means it can be placed close to the projection surface, minimizing the need for a dedicated projector stand or ceiling mount.
The CinemaX P2's key connections are hidden in a recessed area at the rear of the unit, which keeps cables neatly tucked away. There are two HDMI 2.0 ports (one with ARC support), a USB Type-A port, a USB Type-C port, an optical digital audio output, a 3.5mm audio output, an Ethernet port, and a 12V trigger. Wireless connectivity is available through built-in Wi-Fi and Bluetooth 4.2.
Setup and Installation
Setting up the CinemaX P2 is straightforward, thanks to its UST design. The projector can be placed just a few inches away from the wall or screen, making it easier to install compared to traditional projectors. The projector has an adjustable foot, which allows you to level it with the projection surface. A built-in test pattern helps with aligning the image perfectly.
Optoma's SmartFIT app, available for iOS and Android, assists in aligning the image with your screen using your smartphone's camera. The app also includes additional settings like focus, zoom, and image warping, enabling you to achieve the best possible image quality.
Image Quality and Performance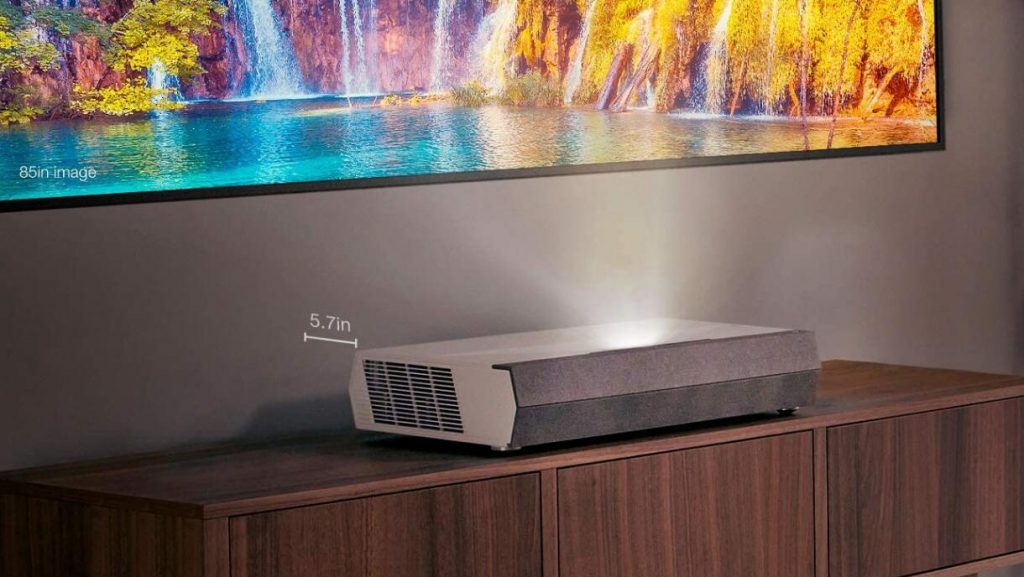 The CinemaX P2 uses a 0.47-inch DLP chip with XPR technology, which enables it to achieve a true 4K resolution (3840 x 2160) with 8.3 million pixels on the screen. The laser light source is rated for up to 30,000 hours of use, ensuring years of hassle-free operation.
In terms of image quality, the CinemaX P2 delivers impressive results, providing sharp and detailed images with excellent color accuracy. Thanks to its HDR10 and HLG support, the projector can display a wide color gamut and produce deep blacks and bright whites. The 3,000 ANSI lumens of brightness ensure that the image remains bright and vibrant, even in rooms with some ambient light.
One potential drawback of the CinemaX P2 is its black level performance. While it produces impressive blacks for a UST projector, it may not quite match the deep blacks of some high-end dedicated home theater projectors. However, for most users, the black levels will be more than sufficient.
The 1,500,000:1 dynamic contrast ratio of the CinemaX P2 ensures that the image has plenty of detail in both dark and bright scenes. The projector's PureMotion technology helps to reduce motion judder and blur, making it ideal for watching fast-paced content like sports or action movies.
Audio Performance
The CinemaX P2's built-in soundbar features two 10W speakers, which deliver surprisingly good audio performance for a projector. The soundbar supports Dolby Digital and DTS decoding and offers a clear and immersive audio experience. While it may not replace a dedicated home theater sound system, it's certainly a step above most built-in projector speakers.
Smart Features
The Optoma CinemaX P2 comes with a variety of smart features that enhance its usability. It runs on the Android-based Optoma Marketplace platform, which allows you to download popular streaming apps like Netflix, Amazon Prime Video, and YouTube directly to the projector.
Voice control is available through Amazon Alexa and Google Assistant, enabling you to control the projector with voice commands. The built-in media player can play content from USB storage devices, making it easy to enjoy your favorite movies, photos, and music without the need for additional equipment.
Conclusion
The Optoma CinemaX P2 is an impressive UST projector that offers a high-quality, immersive home theater experience. Its sleek design, easy setup, and excellent image quality make it an attractive option for anyone looking to upgrade their home entertainment setup. While its black level performance may not match some dedicated home theater projectors, its overall performance is commendable.
The built-in soundbar and smart features, such as voice control and app support, add to the projector's overall appeal. If you're in the market for a 4K UST projector, the Optoma CinemaX P2 is definitelyworth considering. Its combination of convenience, image quality, and feature set make it a strong contender in the home theater projector space.
While the CinemaX P2's price tag may be on the higher side, its performance and features justify the investment for those looking to create an immersive home theater experience. With its ease of installation, 4K resolution, and impressive audio capabilities, the Optoma CinemaX P2 is a solid choice for movie enthusiasts and casual viewers alike.
In conclusion, the Optoma CinemaX P2 is a reliable and high-performing 4K UST laser projector that can deliver a truly cinematic experience in your home. Its sleek design, easy setup, and comprehensive feature set make it a great addition to any home theater system. If you're ready to take your home entertainment to the next level, the CinemaX P2 is definitely worth a closer look.